China e-commerce market is unique both by its size, its dynamism and its diversity. First, there are more than 610 millions online shoppers in China, almost twice the population of the USA ! Second, it is a fast growing market with a total value of more than 1.3 trillions of USD and more than 20% growth every year. Today, China represents more than 55% of the world's online sales. However, China e-commerce environment is diverse and challenging to navigate for foreign brands and vendors.

So, what are the best digital platforms to sell in China ?

Alibaba: TMall & Taobao
Jingdong (JD.com)
Specialized platforms (Pingduoduo, Suning, Mia.com)
Social Media platforms (Xiahongshu -Red, WeChat)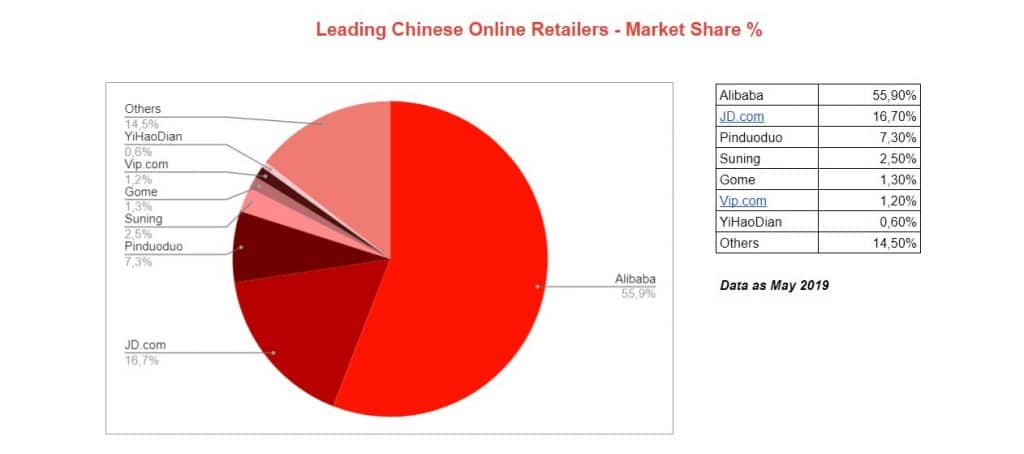 Alibaba, the leader. TMall or Taobao ?
Today, Alibaba eco-system is dominating the Chinese e-commerce and represents a market share of more than 55%. The two key platforms of Alibaba are TMall and Taobao.

First, Taobao is a generalist platform and you can find almost anything you can imagine. As such, it is the most popular online e-commerce platform in China. However, you need to have a Chinese company business licence to operate on the platform, so if you are outside of China, Taobao would not be a good match.

Second, TMall is a more premium version of Taobao. Even if the 2 platforms can look very similar, TMall made an effort to have a more modern design and interface. It highlights the genuity of the products on the platform by being more welcoming to international brands, including cross border selling option.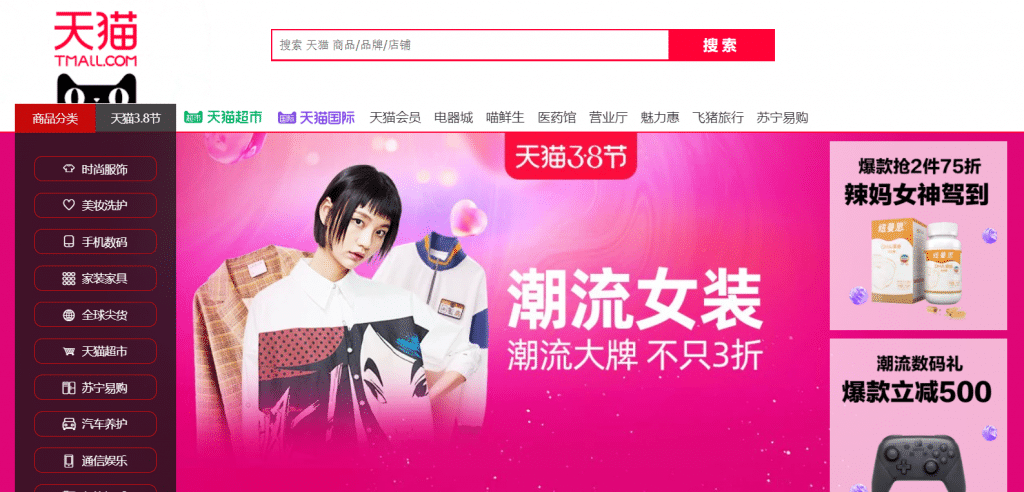 As such TMall has quickly became the place to be for international brands who want to sell online in China. TMall is the favorite platform for brands across all industries. Today, important brands have their own shop on the platform like Adidas, Burberry, or Samsung.

Jingdong: The No. 2 by Tencent (WeChat Owner)
Jingdong, owned by Alibaba, is the fierce competitor of TMall and Taobao, owned by Tencent. Also known as JD.com, Jingdong has a market share of 16% of the online shopping in China. Those two internet giants are fighting hard to gain market share using the resources of their other holdings.

As TMall, JD is selling all types of products and is very welcoming to international brands : the platform even has an English version and allows cross borders sellings without having a company in China.

Today, JD positions himself has a technology leader and innovates with high techs solutions including AI or autonomous delivery systems (Drones).

TMall vs. JD.com: which e-commerce to choose for your brand?
The selection of your e-commerce platform is key for the online future of your brand. It should be integrated in your global digital marketing strategy and be adapted on how you want to promote your product and build your community.

For example, TMall and the Alibaba ecosystem are more powerful to give visibility to your product through a SEO strategy. On the other hand, the Alibaba ecosystem is blocked by Tencent so it's impossible to promote your TMall shop on WeChat. As such, if WeChat is a key element of your digital marketing strategy, JD.com will be a better fit.

Specialized platforms, the best for niche products or specific target audience
If your company plans to sell a specific category of products or targets a niche target audience, some e-commerce platforms can be the perfect fit and will definitely be the one to choose to launch your brand in China.

Pinduoduo - Affordable e-commerce
Pinduoduo is a fast growing e-commerce platform with 7% market share in China ! If your company is selling affordable or cheap products, this is the platform to use. With low cost deals, coupons and grouped purchases, Pinduoduo is a price-driven platform and is the place to be to target smaller cities in China (Tier 3 & 4 cities)

Suning - Electronics e-commerce
Suning is a Chinese e-commerce platform specialized in electronics and home appliances. Even if it can only be used by brand's official retailers with a presence in China, it is a good example on how finding a platform that perfectly fits your product category can help you meet the right Chinese consumers.

Mia.com: Maternity & Baby product e-commerce
Mia is a Chinese ecommerce platform specialized in maternity and baby products. With more than 30 millions users and 1,300 brand collaborations, the platform is a key player for this industry. Also this platform is very welcoming to foreign brands as over 70% of the product are imported.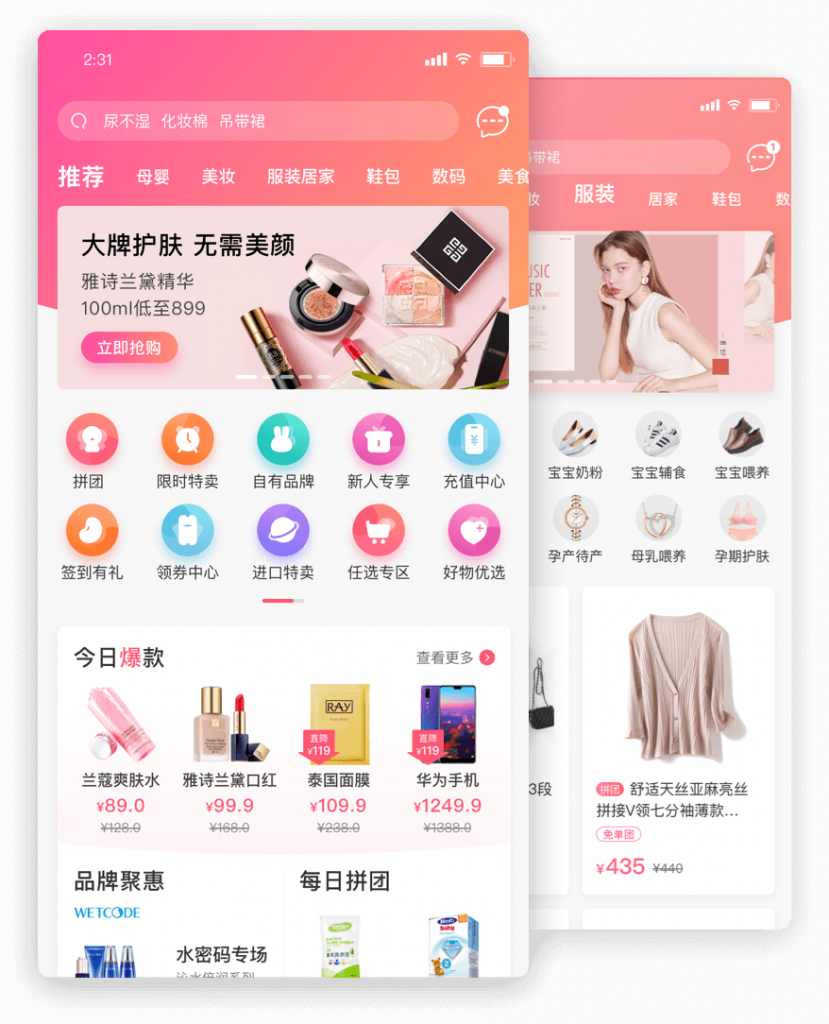 Social Media: the e-commerce expansion
Over the years, in China, social media platforms like WeChat have had the ambition to become a one stop all-in-one solution for the users, including e-commerce.

WeChat: Mini-programs for e-commerce
For example, WeChat build Mini-program to facilitate e-commerce. In the meantime, e-commerce third parties solution like Youzan (Example of WeChat e-Shop), allows brand to sell directly on WeChat. Now, brands can sell directly to their community on WeChat without having to be on a dedicated e-commerce website.

Another example of a social media and e-commerce mix is XiaHongShu (Red) where the user can directly buy the product displayed in the post on the platform.

If you want to build your e-commerce in China, reach out to Next Ren team to define your digital marketing strategy.

Next Ren is a digital marketing agency in Shanghai with a strong e-commerce experience.

Follow us on LinkedIn and WeChat to stay updated on China Digital Marketing trends.