China is now on its way of fully recovering from the COVID-19 crisis. Today, Chinese travelers are ready to resume travel and explore new horizons. The lockdown has brought frustration, and post COVID-19 Chinese consumers are planning to spend more on experience and travel as shown on this COVID-19 China Consumers Study.

Let's explore how the COVID-19 has impacted Chinese expectations in terms of travel, how they are preparing their future trip online, and finally why tourism professionals (Airlines, Hospitality, Entertainment...) should reach out to them now.
Chinese Revenge Traveling has already started
The COVID-19 has created a significant amount of frustration on Chinese consumers, especially on those with the highest income brackets. As such, wealthy Chinese plans to spend more after the crisis. Where do they plan to spend the most? On experiences and travel for a vast majority. Around 80% of affluent Chinese millennials said they will travel more after the crisis!

During the crisis, Chinese consumers have spent hours online day-dreaming about their future trips. They had plenty of time to explore in detail and on multiple platforms different destinations. Here are the key digital trends we observe regarding travel:

Which destinations are the Chinese travelers considering the most?
According to a study conducted by CTrip, Thailand, Japan, Singapore, Vietnam, and Dubai are the 5 most desirable destinations. Also, Oceania, Korea, and Northern Europe are also part of the most considered destinations.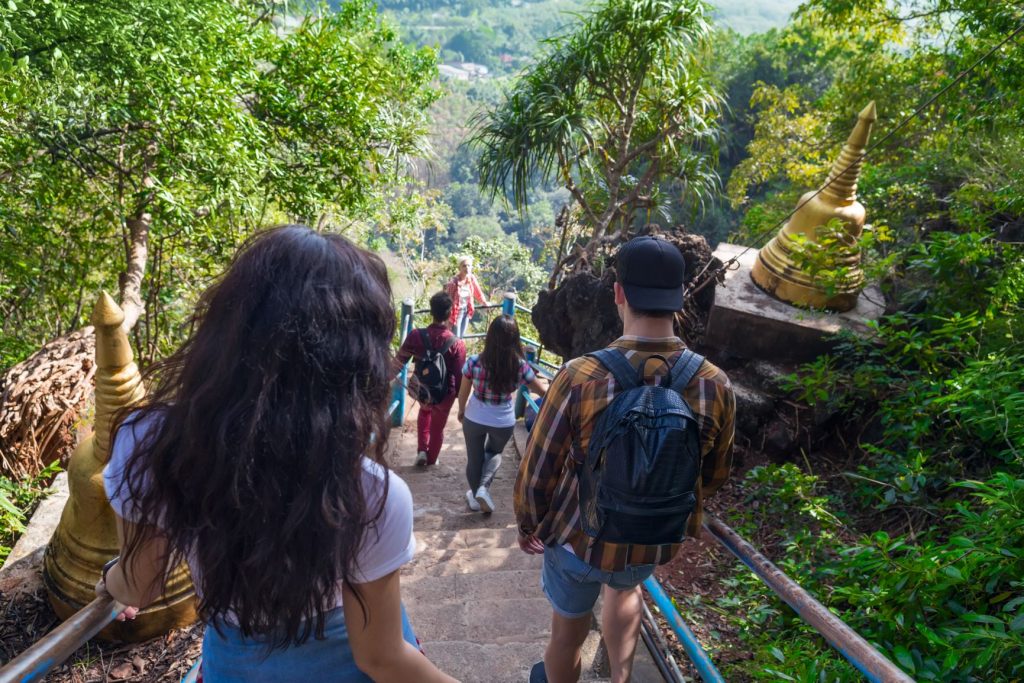 What are the expectations of Chinese travelers post-COVID-19?
According to a study by China Luxury Advisors, 43% of the respondents expect to relax during their next travel. Among the activities considered, sightseeing remains the most popular (32%), but a fast-growing segment is interested in nature activities (25%).

Also, Chinese travelers will favor independent experiences rather than groups traveling. For example, over 80% did not want to travel in groups to visit a destination like Vietnam!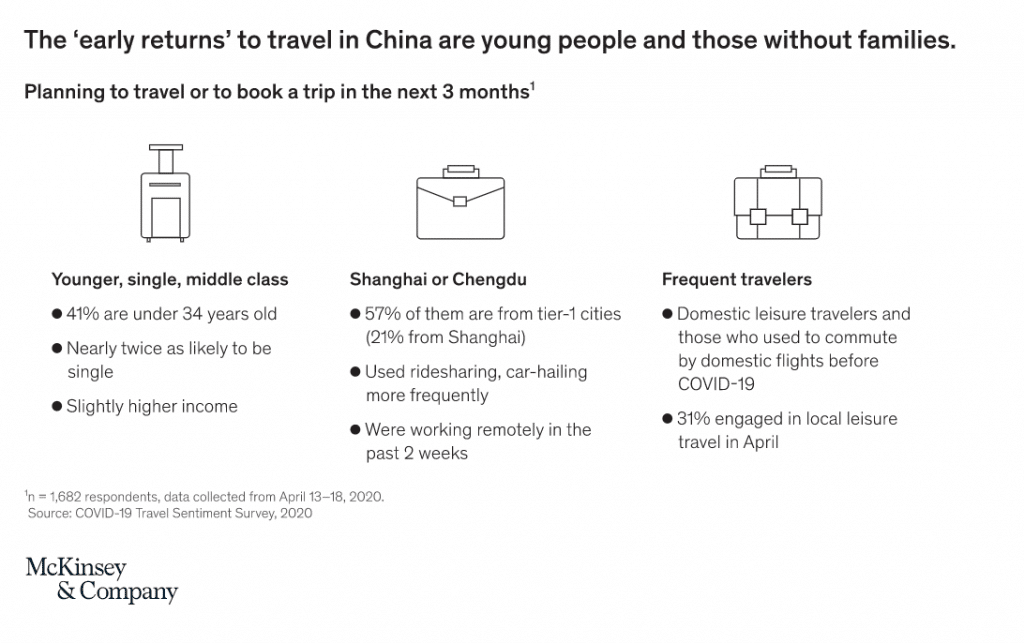 When the Chinese will start traveling again?
Because of international traveling restrictions, Chinese travelers are focusing on domestic travel destinations for now. However, the massive numbers of travelers are showing their eagerness to travel and confidence in the "New Normal".

During May Holidays, over 115 million Chinese traveled in China.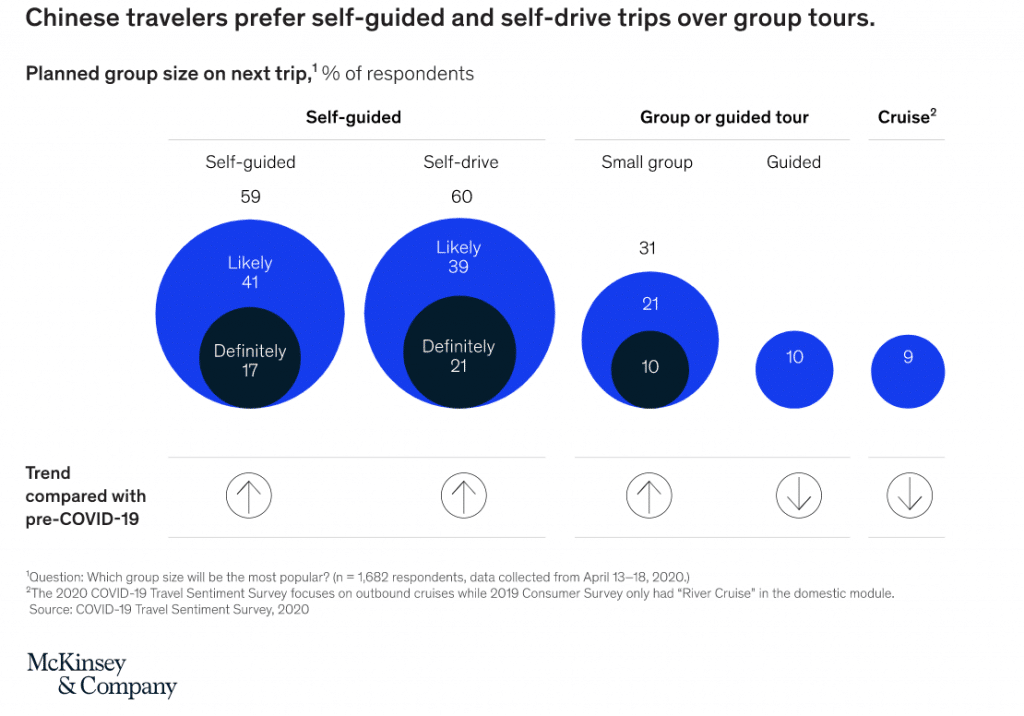 For international travelers, more than 30% of Chinese people are confident and willing to travel outside of China this year. August and October are the period they believe will be the most favorable to do so.

Digital Traveler Journey: how Chinese prepare for their future trip online?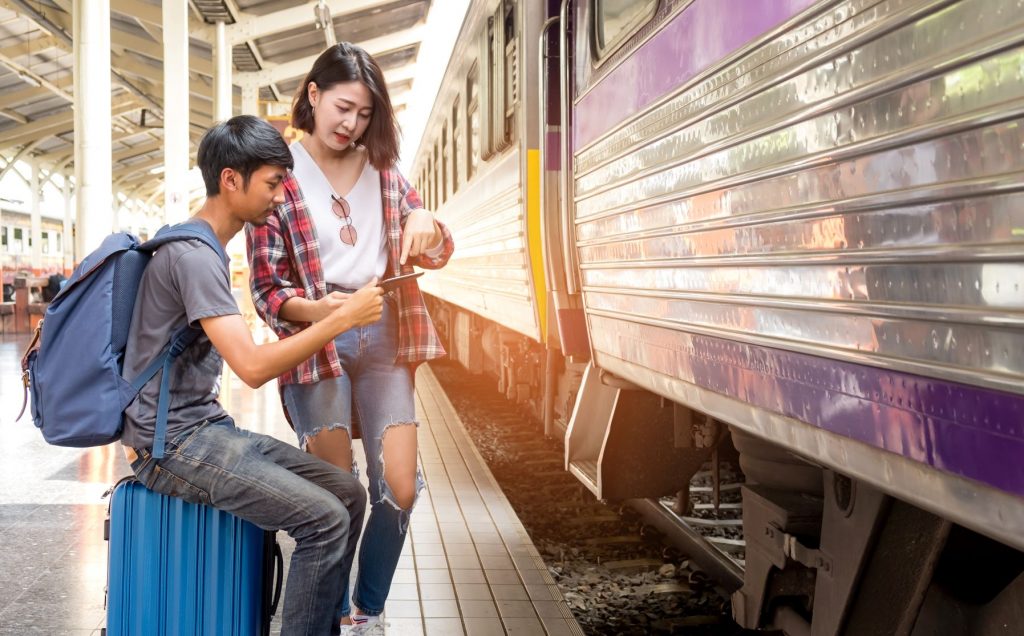 Discovery & Inspiration - Social Media and short videos platforms (Sina Weibo, XiaoHongShu, Douyin)
Before considering a future destination, the Chinese seek ideas and inspiration online. This discovery step in the Chinese tourist journey is key and rely mainly on Chinese social media platforms like XiaoHongShu (RED) and short videos shared on APP like Douyin (TikTok).

On XiaoHongShu (A Pinterest-like APP), Chinese travelers can explore pictures with reviews and comments posted by other users. XiaoHongShu is very popular among Independent Chinese travelers, especially young women tourists. Beyond travel, the APP is also used to prepare for shopping, especially luxury items that are bought outside China (Duty-free shopping).

Consideration & Exploration - Travel Forums (Qyer, Mafengo)
Once they start considering a destination to travel to, Chinese tourists will explore forums, like Qyer or Mafengo to prepare their trip and select activities and places recommended by their peers.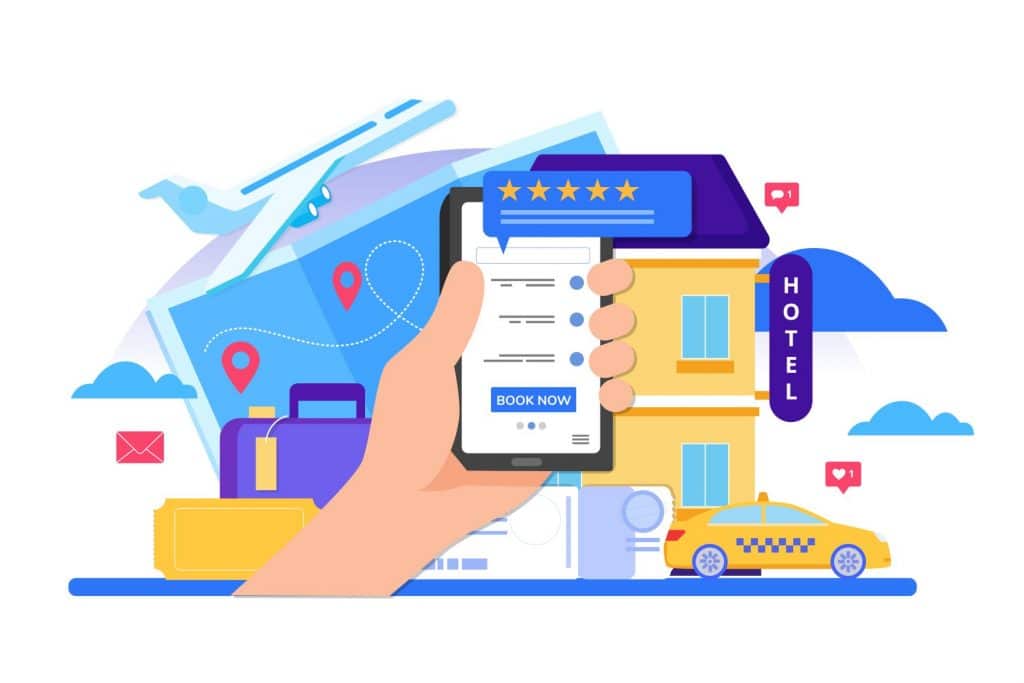 Chinese travelers prepare their trip in advance and with the COVID-19 crisis this habit is getting stronger.

Mafengo is helping over 120 million users to prepare their trip every month and is a reference for young Chinese travelers. With Mafengo, they can read and share travel guides, read reviews, and tips about their destination (Hotels, restaurants, place of interest, museum…)

Qyer is a direct competitor of Mafengo, with a strong community who posted multiple articles and discussions about the places they have visited. The platform also includes trip planning tools and e-commerce features.

Purchase and after-sales - Online Travel Agent (CTrip, Fliggy, Qunar)
To book their trips, Chinese tourists will favor online travel agents. They will browse through different digital APP to find the best prices and discounts. OTA will be used from booking airplane tickets, hotels, and activities.

The OTA will be used before the trip but also during the trip to book some last-minute activities like museum tickets. This is especially useful for independent travelers who like to keep flexibility in the way they travel. After the travel, OTA can also be used to review and rate their experience online.

WeChat - The Chinese Traveler Companion - One APP for everything
As the most popular APP in China, WeChat is widely used by Chinese travelers, before, during, and after their travel.

First, Chinese travelers will use WeChat to stay in touch with their friends and family during their trip. They will share their journey with Moments.

Beyond the social activities, WeChat will be leverage to prepare their trips. WeChat Official accounts and mini-programs are a very rich eco-system. It is ideal to find inspiration and explore potential destinations.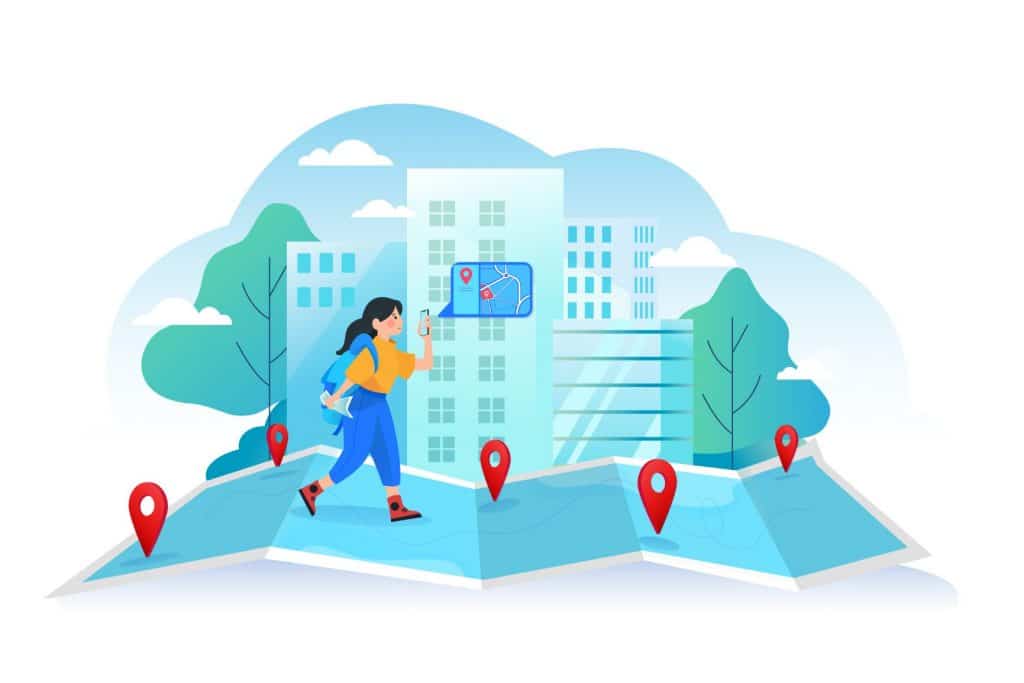 Furthermore, with WeChat Pay, Chinese travelers can now pay easily online and offline during their trips.

Digital marketing strategies to attract Chinese travelers post-COVID-19
The tourism industry is one of the most impacted sectors by the COVID-19 crisis. However, recovery is on its way and Chinese are a key target audience to reach out. Let's discuss some digital marketing strategies, you can implement to gain visibility in China.

Target young independent Chinese travelers
Chinese will favor independent traveling to groups travels. It's a long-lasting trend that is strengthened by the COVID-19 crisis. In January, China put a ban on outbound group travel, but not on independent travel. Also, independent travelers are more flexible in their decision process, and will be the ones to start traveling first.

Grow your visibility on Chinese social media and travel forums
Create content about your activity and offers on the platforms use the most to find inspiration and do research like Xiahongshu, Sina Weibo, Mafengo, and of course WeChat. In the meantime, make sure to be active and use social media to listen and engage in social discussions about your destination.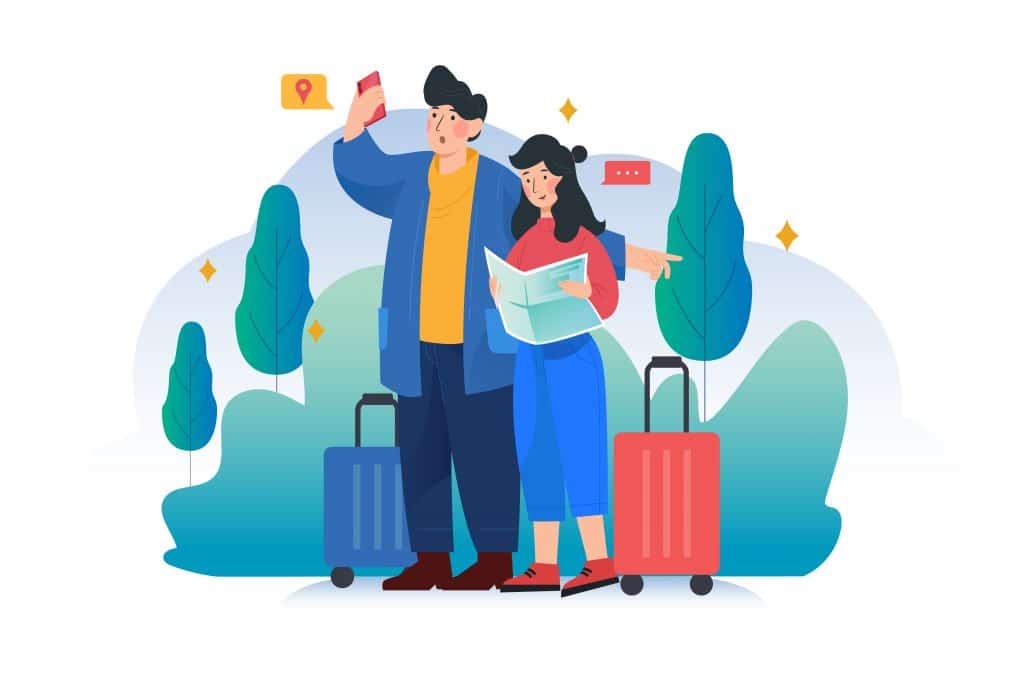 You must be an expert about your destination and be capable to help and advise Chinese netizen directly on the platform they use.

Simplify Chinese customer journey from online to offline
Make sure to simplify the customer journey of your Chinese client. First, start leveraging WeChat official account to answer their questions online before their travel. Also, make sure to provide all relevant information easily accessible in Chinese. Finally, encourage Chinese visitors to review your activity online.

Build partnerships with travel and lifestyle influencers & KOL (Key Opinion leaders)
Give more visibility to your business by building partnerships with Chinese influencers who specialize in travel. First, you can follow them on platforms like Sina Weibo and engage with their content. Then, you can invite them to experience your activity and place when they travel to your destination. Finally, you can build cooperation with them to create some special content about your destination.

Work with a digital marketing agency to build campaigns and content in China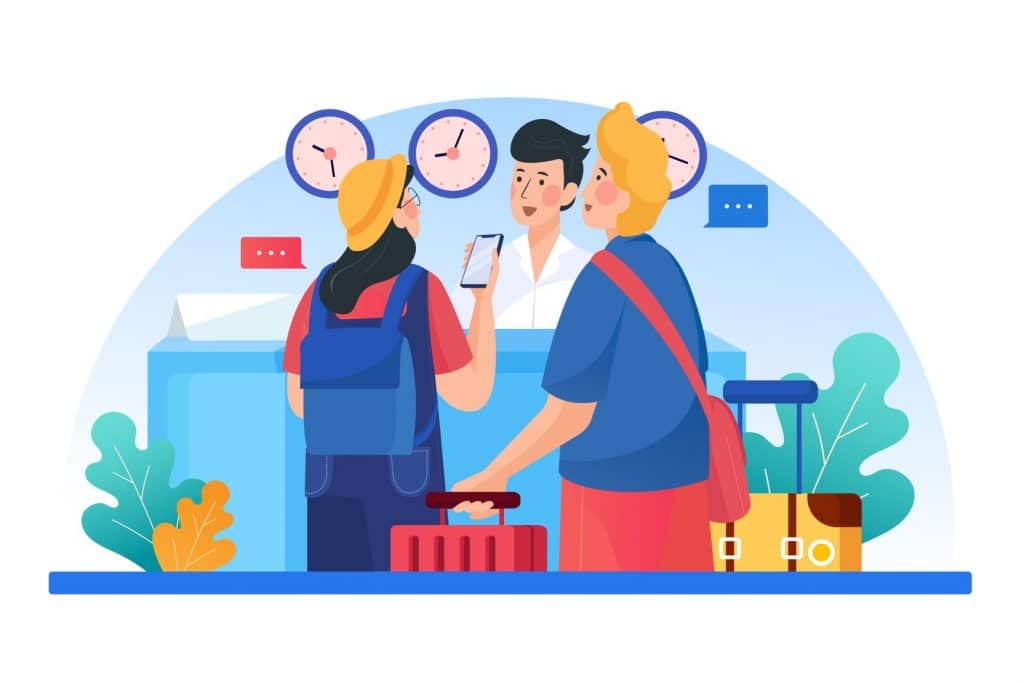 Use the support and expertise of a Chinese digital marketing agency like Next Ren Shanghai to create content in Chinese. First, Next Ren, a digital marketing agency, will establish your online presence on the relevant platforms. Then, we will promote your destination with the creative social media content, KOL collaboration, and campaigns. Finally to help you simplify your customer journey, we can create dedicated digital experiences like WeChat mini-programs and e-shop.

Reach out to Next Ren Shanghai team, your digital marketing expert to engage with Chinese travelers.
Next Ren is a digital marketing agency in Shanghai. We are experts in social media marketing (WeChat, Sina Weibo, RED, Douyin...). Every day, our team builds digital content and campaigns for international and local brands.
Follow us on LinkedIn and WeChat to stay updated on WeChat trends.